Thunderbolt® PTP Grandmaster Clock GM200
The Protempis Thunderbolt® PTP GM-200 is an IEEE-1588 Grandmaster Clock (GMC). It provides PTP, NTP and SyncE time references.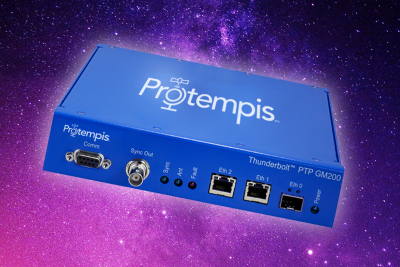 KEY FEATURES
IEEE-1588 PTP Grandmaster Clock
– Multiple PTP Profiles (G.8265.1, G.8275.1, G.8275.2, Telecom-2008 Profile, Enterprise Profile, Power Profile, Broadcast Profile SMPTE)
Multi GNSS for improved reliability/redundancy (GPS, GLONASS, Beidou and Galileo)
15ns time accuracy relative to GPS reference
Holdover of ±1.5us over 4 hours (constant temperature and when locked to GPS for 7 days)
Inputs: GNSS, 1588-PTP and SyncE
Outputs: 1588-PTP, NTP, SyncE, PPS and 10MHz
1 RJ45 Dedicated Management Port
1 SFP interface (NTP,PTP/SyncE)
1 BNC port (PPS and 10Mhz outputs)
1 EIA-232 (RS232) Serial Port
IPv4, IPv6 and VLAN
Network Management: SNMP, Web UI, CLI
Operating temperature range –40 to +85°C
DC (default) and AC power options
Small foot print – ½ Rack 1U
NEBS Compliant
Product Overview
Protempis's Thunderbolt® PTP Grandmaster Clock GM-200 is a high quality IEEE-1588 PTP Grandmaster clock (GMC) with an integrated Trimble GNSS receiver. The Thunderbolt® PTP GMC is designed and optimized for the deployment in wireless service provider networks to meet the stringent time & phase requirements of 4G LTE and small cell networks.
It provides NTP, PTP and Synchronous Ethernet timing protocols. Thunderbolt® PTP GMC GM-200 uses GNSS (Global Navigation Satellite Systems) signals from GPS, GLONASS, Galileo and Beidou as the primary time source for synchronization.
Thunderbolt® PTP can use its built-in, disciplined OCXO (oven controlled crystal oscillator) as autonomous time base for providing several hours of accurate holdover in case that GNSS signals are not available.
Hardware redundancy can be achieved by using two Thunderbolt® PTP Grandmaster clocks.
Thunderbolt® PTP comes in a rack-mountable enclosure; two Thunderbolt® PTP units fit side-by-side in a 1U height 19" rack.
PTP Grandmaster designed for small cell, 4G and LTE-A deployments
The Protempis Thunderbolt® PTP Grandmaster Clock is designed for wireless networks requiring phase synchronization. The GM200 provides continuous availability of UTC traceable time for phase synchronization, a must for LTE-Advanced networks and services..
The Thunderbolt PTP GM200 employs industry leading Trimble GNSS solution & holdover technology.
The PTP GM200 can tolerate harsh environmental conditions supporting both indoors & outdoors deployments with extended operating temperature range.
Small cell phase synchronization
The Thunderbolt PTP GM200 is designed with small cells in mind but also it meets Marco base station requirements for synchronization.
The Thunderbolt PTP GM200 supports small cells networks that require phase synchronization. The most efficient way to implement phase synchronization for LTE & LTE-A services is to deply the grandmaster clock close to target eNodeBs to ensure 1.5 us of phase alignment.
By reducing network hops between the grandmaster and LTE base stations, the risk of network re- configuration and load variance on IEEE-1588 signal quality is reduced. The Protempis GM200 suits this strategy perfectly due to its small size, low cost, superior accuracy & reliability and flexibility of deployment options
Ideal for LTE A services
CoMP, eICIC, eMBMS and Carrier Aggregation services require that synchronization networks be requalified and redesigned to support phase synchronization. Non-compliance with phase sync specifications will result in low or no service from LTE-A equipment and degraded bandwidth leading to potential service outages.
By engineering current networks to support phase synchronization, LTE-A services downtime can be mitigated. Phase synchronization can easily be supported by current sync networks with the GM200 by adding it where needed. Given its low cost, it can be added to any network requiring support for the stringent phase synchronization specifications that LTE-A services require performing at their optimal levels.
High reliability assures that the GM200 can be deployed in edge and/or aggregation networks.
Performance
The system level performance is defined by the total number of packets per second. The total/maximum number of packets per second supported is 6,272.
If Thunderbolt® PTP GM-200 is configured only as Grandmaster then it can support up to 256 unicast PTP slaves/clients @ 8 packets per second. The upper limit on number of PTP slaves/client is 500 (unicast or multicast).
If Thunderbolt® PTP GM-200 is configured only as NTP Time Server then it can support NTP 2,500 transactions per second.
If Thunderbolt® PTP GM-200 is configured as Grandmaster and NTP Time Server at the same time (GMC and Time Server combination), then the maximum number of packets per second supported is 6,272.
BENEFITS
Low cost reduces CAPEX of LTE TDD, LTE-A & small cell projects
Extended environmental capabilities enable deployment in difficult locations where small cells and LTE-A base stations are deployed
Superior holdover performance via Trimble proprietary technology gives extra time error budget for network design and dimensioning
SPECIFICATIONS
General
Inputs……………………….GNSS (GPS, GLONASS, Beidou & Galileo), 1588-PTP, SyncE
Outputs…………………..PPS, 10MHz, NTP, PTP, SyncE
Ethernet ports……………..1x Mgmt RJ45, 1x 1G SFP, 1x 1G RJ45
Protocols…………………PTP, NTP & SyncE
GNSS Antenna …………SMA
Protocols:
IEEE-1588 (PTP), NTPv4, SyncE, IPv4, IPv6, Telnet, SFTP, SSH, Radius, TACACS+, SNMP, DAYTIME, TIME
Network Management…SNMPv2, HTTPS, CLI
User Interfaces:
CLI………………………Monitoring and Management
Web UI………………….Monitoring and Management
Performance
Time of day accuracy……………………………..15ns (1-sigma) reference GNSS
Time stamp accuracy…………………….……<10 ns rms
Frequency accuracy………………………………1.16×10-12 (one day ave.)
Holdover…………………………………………….<1×10-10 /24hrs
Time accuracy
Tracking to PRC………………………………………<15ns (locked)
Holdover………..……………………………………..< ±1.5μs/4hrs (7 days locked)
Power consumption…………………………………..5W average, 10W maximum
Physical Characteristics
Dimensions in cm (L x W x H): 20.8 x 20 x 4.4 (19" half-rack x 1U)
Weight: < 3Kg (6 lb)
Operating temperature range:
Temperature: -40°C to + 85°C
Humidity: 5%-95% RH non-condensing (+60°C)
REGULATORY & STANDARDS
Safety & Environmental
UL EN 62368-1
CE, CISPR22 class A
GR-63; Level 3
ETSI (EN55032/EN55024) EN 300019, Class T3.2
Electrical
EMC, ESD Immunity & susceptibility
FCC Part 15 Class B / ICES 003 Class-B
Korea KN32 / KN35 Class A
EN 300 489-1, EN 301 489-19 EN 303 413
IEEE 1613-1
Telcordia GR-1089
Synchronization
ITU G.8265.x, G.8275 (PRTC/T-GM)
IEEE PTP 1588v2
IETF NTPV4 (RFC5905)
Environmental
RED, RoHS2 & WEEE Compliant
Specifications are subject to change without notice.
Need NTP Time Server? Use z250 or z500 Series time server