End of Life product: z050 USB GPS Dongle with PPS – New product ⇒ z052 USB GNSS Dongle with PPS
z050 Timing and Navigation Module (End-of-Life)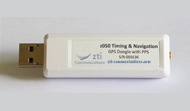 The
z050
USB GPS Dongle with PPS
is used with timing and navigation applications.
The Pulse Per Second (PPS) is an electrical signal that very precisely indicates the start of a second. The z050 GPS chipset delivers the PPS signal with an accuracy ± 25 nanoseconds (at chipset level).

The z050 USB dongle provides an L1 Frequency GPS receiver, with NMEA protocol from a USB port and also a PPS timing output.
The z050 unit is based on a GPS receiver from Trimble with 22-channel continuous tracking and high sensitivity (tracking -160dBm). With its higher sensitivity, performance and faster startup times, the z050 module is a complete GPS receiver that generates position fixes with high accuracy in extremely challenging environments and under poor signal conditions (down to -160dBm), velocity and time data with leading edge acquisition times.
In addition, the GPS receiver provides a configurable 1 PPS synchronized to GPS/UTC, typically within 25 nanoseconds (one sigma) and an update rate up to 5Hz.
The z050 module is capable of receiving Satellite Based Augmentation System (SBAS) corrections, including the U.S. Wide Area Augmentation System (WAAS) and the European Geostationary Overlay Service (EGNOS). GPS assistance (aGPS) is also supported.
When the USB dongle is connected to your equipment (desktop, laptop, netbook, UMPC …), a virtual serial port is available after installation of the driver by the operating system – for example: USB Serial Port (Com x). Drivers are available which allow the z050 USB dongle to work with the following operating systems:
Windows Server 2008 R2, Windows Server 2008, Windows Server 2008 x64
Windows 7 , Windows 7 x64
Windows Vista, Windows Vista x64
Windows Server 2003, Windows Server 2003 x64
Windows XP, Windows XP x64
Windows 2000, Windows ME , Windows 98
Windows CE.NET (Version 4.2 and greater)
Linux
Mac OS X, Mac OS 9 , Mac OS 8
For most of these operating systems two types of driver are available: Virtual COM Port (VCP) drivers and direct (D2XX) drivers. The VCP driver emulates a standard PC serial port such that the USB device may be communicated with as a standard RS232 device. The D2XX driver allows direct access to a USB device via a DLL interface. Virtual COM port (VCP) drivers cause the USB device to appear as an additional COM port available to the PC. Application software can access the USB device in the same way as it would access a standard COM port.
The USB dongle contains a USB to serial UART interface and the PPS signal provided by the GPS chipset is connected internally to pin 8 (CTS). So, the PPS signal delivered by the USB dongle is available by using the CTS signal on the virtual com port used.
Applications
Benefits
Timing and Synchronization
Ultra compact GPS receiver with high accuracy by using the PPS signal for timing applications
Vehicle Navigation
Automatic Vehicle Location
Accurate GPS positioning within 2.0 meters
Use with Built in GPS Antenna

Use with External GPS Antenna


Key Features
Trimble chipset, GPS L1 Frequency C/A code receiver with high sensitivity, 22 channels
NMEA output and input
SBAS (WAAS, EGNOS, MSAS) capable
aGPS capable
Update rate up to 5 Hz
PPS timing output
Built in GPS Ceramic Patch Antenna (18x18x4mm) or use of an external active GPS Antenna
Compact Design with a size of a USB key (USB 2.0 Interface)
Suitable for Laptop, Desktop, Mobile Device, UMPC, Eee PC, Notebooks and Netbooks
RoHS Compliance
GPS Performance Specifications
GPS performance statistics are clear view, stationary. Sensitivity based on signals measured at the antenna.

Parameter
Value
Update Rate
1 Hz (default), up to 5 Hz
Number of channels
22
Accuracy
Position (autonomous)
<2.5 m 50%, <5 m 90%
Position (SBAS)
<2 m 50%, <4 m 90%
Altitude (autonomous)
<5 m 50%, <8 m 90%
PPS
< ±25 ns @ 50%
Acquisition time
Re-Acquisition
2 s 50%
Hot Start
2 s 50%
Warm Start
35 s 50%
Cold Start
38 s 50%
Sensitivity
Tracking
–160 dBm
Acquisition
–146 dBm
Dynamics
(Acceleration)

2 g
Operational Limits
Altitude <18,000m (60,000 ft) or velocity <515m/s (1,151 mph).
Either limit may be exceeded but not both (COCOM limit)
Ordering Information
Reference
Description
z050-USB
z050 USB GPS Dongle with PPS
Contains: z050 USB GPS Dongle with PPS + USB Extension Cable + GPS patch antenna (5m cable) + CD-ROM (Software & Documentation).
z050-STK
z050 Starter Kit = z050-USB + TSS-P Software
Contains: z050 USB GPS Dongle with PPS + USB Extension Cable + GPS patch antenna (5m cable) + CD-ROM (Software & Documentation) with one license of Windows TSS-P software (Time Service Software) for the update of the PC clock with 1ms guaranteed accuracy.
Need a Network Traffic Generator software with a throughput of several Gbps? Use LanTraffic V2 Enhanced Edition