z1250 Timing Signal Generator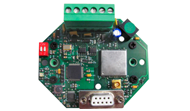 The z1250 synchronization module can generate timing signals synchronized to UTC time thanks to the embedded GPS receiver. Two outputs are available, and each output can be set to one of the four available functions:
TOP synchronization with frequency adjustment
Time scheduler
Twilight switch
Out of Position (displaced buoys by example)
The TOP synchronization function is well suited for multiple maritime signaling equipment with same lightning frequency such as alignment lighthouses, fairway buoys or port entry doors (port and starboard lights). The z1250 module can thus synchronize time of light and darkness of these maritime lights which ensures better readability and increases safety. The user can set different adjustment parameters: pulse duration, periodicity and timing offset.

The time scheduler function enables daily schedule for a logical output based on user-defined time slots. To reflect the night length variation over the days better, the module automatically computes sunrise and sunset switches, depending on settings for the days of solstices (winter and summer) and equinoxes.

For the twilight switch function, the z1250 module automatically calculates aurora and daybreak hours from the location determined by GPS. The logical output assigned to this function is therefore daily activated according to the calculated hours for sunrise and sunset (a positive or negative user-defined offset can be added).

The Out of Position function is mostly used for maritime signaling floating equipments such as buoys. The objective is to alert the user or to perform an action when the buoy leaves its correct position area.




Applications
Example of use case for ZTI 1250 with industrial automation
• Public lightning
• Maritime safety
• Synchronization automation
• And more...
• Control and monitoring unit for maritime signaling lights and motors
• Led Flasher Sabik deployed on both fixed and floating structures
• Programming board for lights
Key Features
High timing accuracy
Synchronization by GPS
Precise geolocation
Programmable functions:
– TOP Synchronization
– Time scheduler
– Twilight switch
– Out of Position


– System default (antenna problem, GPS satellites not in view…)

RS232 interface (programming and NMEA messages)
Reduced size 81.3 x 66.0 x 34.0 mm
Power supply 9 to 40 VDC and very low consumption
RoHS Compliance
Ordering Information
Reference
Description
z1250-000
Electronic board
z1250-001
GPS antenna with 3m cable
z1250-002
GPS antenna with 10m cable
z1250-003
DIN rail mounting kit
z1250-004
Serial programming cable
z1250 Starter Kit
Includes z1250-000 and motherboard, GPS antenna with 3m cable, serial programming
cable and power supply